Free UK Delivery
£10 Of Your First Oder
Product Description
Convenient handling, high performance and easy to clean – these are features of the HYBRID H300. It takes care of providing the ideal humidity within your four walls. At the same time, the innovative, integrated filter cleans the room air and alleviates discomfort for people with allergies. Thanks to an integrated sensor, this appliance measures the relative humidity level in real time and automatically adjusts its evaporator output. The HYBRID H300 provides for real well-being in your house!
The appliance can be operated directly using the control knob, and the BONECO app is available for additional functions: Simply set the desired humidity at which you feel best, and the H300 takes care of the rest. It doesn't matter what you wish for: higher humidity in the colder winter months, purified air during the pollen season or both – the H300 can provide exactly what you need. Choose the mode you want in the app (Hybrid, Purifier, Humidifier) and improve your air quality. In addition, various profiles are available for selection: The SLEEP profile supports restful sleep at night, and BABY creates pleasant conditions while your child is dreaming. Thanks to the integrated aroma compartment, you can fill your home with your favorite aroma.
In addition to making the unit convenient to operate, the designers also thought about making it easy to clean – most of the parts can simply be put in the dishwasher or washing machine, saving you from spending time scrubbing by hand. The understated and modern design of the H300 fits in every living room or office, and customers value its exceptional performance.
Product Highlights
3-in-1 hybrid device: Choice of operating as a Humidifier, Purifier, or both
Natural humidifying with a high-capacity filter to improve your overall well-being
Incredibly easy to clean washing machine and dishwasher safe Components
BONECO App offers intuitive user guidance and navigation
Real-time humidity measurement and control
System Description HYBRID
Depending on requirements, the HYBRID system can be used either as a humidifier, an air purifier or a combination of both. A permanent pre-filter stops hair, household dust and other larger dirt particles. The downstream filter reduces nearly all viruses and absorbs bad odors. Last but not least, the evaporator mat is responsible for air humidification.
Product Details
Low power consumption
Automatic shut-off when water base is empty (red AUTO LED)
Convenient handling thanks to the direct filling of the water base
Easy to control using the control knob, six performance levels for individual settings and preset comfort mode for optimum humidity
Additional functions using the BONECO app: Predefined profiles (AUTO, SLEEP, BABY) with optimum relative humidity level, ON/OFF timer, child-safety lock, filter change reminder, direct access to the BONECO online store
High-quality components with a long service life
Fragrance container for the use of essential oils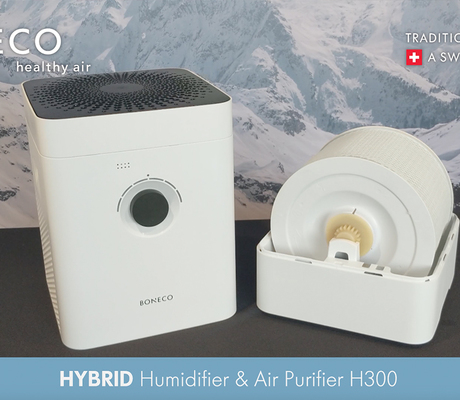 Use Boneco clean and protect with this product.Boneco Clean and Protect disinfects the room air and surfaces. When used undiluted it eliminates 99.999 of special viruses, bacteria, fungi, mites and germs in the air and on the surfaces!Great for home, office, hotels, schools and health settings.
7 days a week till 7.30 pm
Best Products At The Best Prices For You, Every Time . 
Free UK Delivery
If You Need Any Advice On Any Products, Just Give Us A call, we're Happy To Help.
0121 514 2178
Feel Free To Check Out Our Reviews.
Only logged in customers who have purchased this product may leave a review.